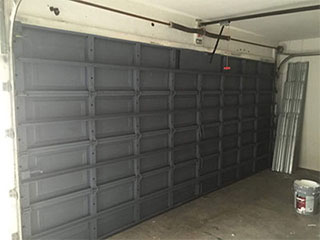 To avoid all sorts of mechanical and electrical problems with your garage door, some minimal maintenance is required. This type of routine servicing is a great way to reduce the working stress of many of the system's moving components, and ensure that its various safety and security features are fully operational.
Precise Opener Tests
The garage door opener is both the brains and the brawns of the system. What that means that is, this device is both in charge of control the door's movement, and initiating it. As a result, it could suffer from a variety of issues, and must be serviced on a regular basis (every year or so) to prevent certain problems from occurring. Our technicians will inspect its circuitry to ensure the wires are all properly connected and that none are fried. We'll also check the motor gear to see if it's too worn or still operational. Additionally, our experts will test the safety reversal mechanism to see to it that the safety sensors are working correctly and that their alignment is exact.
Efficient Spring Performance
As the muscles that support and assist the garage door panels to move, your springs need to be examined for deformed coils and other issues, such as rust and corrosion. Torsion units also need to be lubricated to promote their efficiency and smoothness, and to reduce or completely eliminate the squeaking noise they can start to make. Sometimes, spring adjustment may be required; especially if you notice that the door is getting unbalanced and is starting to become uneven.
A Range Of Additional Fixes
Other hardware parts of the garage door could do with some lubrication and minor repairs too. Over time, garage door track repair or roller replacement may become necessary. To avoid such scenarios, it's important to let our technicians examine these components. We'll straighten and fix bent tracks and ensure that the steel rollers are properly lubricated and able to move smoothly.
A Solution To Every Problem
Whether you want to book a maintenance appointment, or you're in need of emergency spring replacement, Garage Door Repair Trumbull is the team to call. We are always here to help every local homeowner with any type of problem.
Want more? Let us take care of:
Garage Door Safety Inspections
New Opener Remotes & Clickers
Liftmaster Chain Drive Lubrication
Broken Garage Door Track Repair