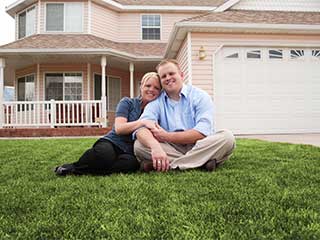 If you plan on using your garage as a venue for a get-together or for a romantic date, you'll need to make sure it's completely clean and organized. It's important that everything is packed away neatly and out of sight. The floor should also be swept and mopped clean. The garage isn't inherently a romantic spot, so you'll need to put some elbow grease into making it approach an ideal condition.
Let's Get This Place Smelling Good
Sometimes, it may not matter how hard you scrub, you just can't seem to get rid of certain smells. Luckily for you, Valentine's Day is the perfect time to get out those flowers and scented candles! Not only will this enhance the romantic ambiance, it will mask any unwanted smells.
Safety Comes First
Your decoration choices are completely up to you, but there are a few things to consider. You need to remember that your garage door is a really complex electro-mechanical system, and you should always be careful when working near its different components. Also, stay away from the opener as you wouldn't want to inadvertently damage any of its components and accidentally cause the system to malfunction.
Setting Up Space
Depending on how many couples are coming over, you could have a few small tables seating four or six guests, or one long table seating everyone. In addition to the flowers and candles, you could decorate the space with loads of fairy lights and other traditional décor such as cardboard hearts and cupids cutouts. Red and white bunting hanging from the ceiling will also go a long way toward putting your guests in a romantic mood.
Turning Up The Volume
Speaking of getting in the mood, music is a core part of throwing a successful Valentine's Day bash. Make sure that you have a wide array ranging from old school songs to the latest modern hits. Your garage should have a few electrical points for you to plug in your sound system and speakers. If you have a properly insulated garage door, then the loud music won't even disturb your neighbors.
Delicious Treats And Drinks
If your garage is big enough for a workbench, you could use it as a serving table. Guests will then be able to have a buffet-style dinner while mingling with the other couples. You could also use this space for a punch bowl or a mini bar area.
Let The Games Begin
Now is the time to clear up the food and get out the cards and board games! There are plenty of options for you to choose from, ranging from Monopoly and Scrabble to more adult-themed card games. It's a great way to get everyone involved while having a good laugh.
Time To Relax With a Movie
The inside of your garage door can work really well as a big flat screen, especially if it's a solid steel or aluminum door. All you have to do is drape a clean white sheet across it and set up your projector. If it was just you and your significant other, a romantic movie may be the perfect choice. However, if you're relaxing with your friends, why not switch it up with a horror or sci-fi thriller? Having a Valentine's Day party in the garage is quite unconventional, so why shouldn't your movie choices be just as unique?