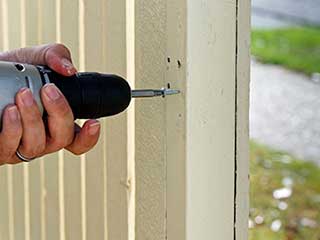 Getting a new electric driveway gate installed can be a great way to take improve the security of your property. This type system also offers great convenience benefits. Gates do, however, require a little restorative attention from time to time. That's because they are subjected to damages caused by harsh weather, old age, and various other factors. Our technicians can fix a wide range of problems that can affect your swing or rolling gate. We'll make sure that the system stays functional for a lot longer than it otherwise would.
The Opener And Its Motor
The motorized unit that powers your automatic gate is the single most crucial part of the system. The opener works exceptionally hard to provide the system with the power needed to move its heavy frame. Unfortunately, the motor can become damaged by a variety of sources. Old age and consistent usage can gradually wear down its inner components, including the gear and even the circuit board, making them ineffective. Accidents could also damage the motor either in a minor way or to the point of complete failure. Whatever the reason, broken motor repair is no meager task, and you should leave it to our expert technicians.
The Hinges And The Track
The tracks and hinges that help your sliding or swing gate are responsible for providing the frame with seamless, smooth movement, as well as keeping it securely fastened in the right trajectory. They can be damaged, however, by anything from rust and galvanic corrosion to accidental physical hits which can quickly leave them defective. When this happens, having a technician assist you with welding repair is important, as otherwise, you may not be able to use your gate. Welding can be dangerous, so you must never try to perform it by yourself.
Intercom System Repair
The hardware parts of your gate aren't the only ones that can suffer from various issues. The system which allows you to communicate with visitors, a.k.a the intercom, can also malfunction or even break. Our experts specialize in finding the source of such problems and quickly solving them. If a new system will need to be installed, you can count on us to help you find the best new intercom system for your needs and to install it perfectly.
Everything You Need
Don't let gate related problems affect the security of your property. Contact our team at Garage Door Repair Trumbull and let our experts take care of whatever is causing the system to malfunction. There's no problem we can't handle.
Our team can also take care of:
Program Doorking Intercom
Gate Exit Sensor Installation
Driveway Gate Troubleshooting