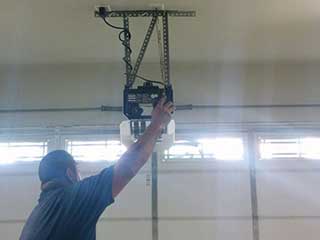 Every automatic garage door system uses an electric opener. This device is actually a complex motorized unit designed to power and control the system's operation. It features a motor unit mounted on the ceiling, a drive system sitting aligned with a rail and a trolley carriage which connects it to the door and a pair of safety sensors that are fastened to the lower parts of the vertical tracks. No matter whether you have a chain, screw or belt drive opener, it will need to be properly cared for. Knowing how to deal with common problems quickly and effectively can help you make the unit last longer.
Regular Safety Tests
The photoelectric eyes that are in charge of detecting the presence of obstacles need to be tested at least every three months. Carefully clean them with a soft cloth to get dust and dirt out of their lenses. Check the wiring for damage too. It has to be replaced as soon as possible if it has small cuts. The sensor alignment should be directly facing each other. If it isn't exact, their position will need to be adjusted. Test them to make sure they're working after you're done. Place a wooden board or another sufficiently tall solid object somewhere where it's blocking one of the sensors while the door is opened. Now use the opener to close the door. If it doesn't reverse and continues closing, you must get your sensors checked by professionals.
Other Useful Maintenance Habits
Other parts of the opener system must also be taken care of on a regular basis. The wall-mounted switch and the remote controls should be properly cleaned. If you have a chain or a screw drive opener, the metal chain or rod will need lubrication. If you find sticky pieces of hardened dirt, remove them with mild solvent before applying the lubricant. It is best to use a product that is specifically designed for this type of job. Consult your owner's manual to make sure you use the right substance. The areas where the trolley gets into contact with the rail should also be lubricated.
Dealing With Common Problems
If your clicker or your remote can't seem to be able to open the door check their batteries first. If the other controls work, then the issue is with the remote and it has to be fixed. If the motor doesn't start regardless, it's possible that the unit doesn't get any power. It's much less likely for the motor or the circuit board to have failed, but not impossible. In any of these cases, the faulty component will need to be replaced. If the motor sounds like a coffee grinder and the opener can't seem to lift the door, the gear probably broke or wore out. Give our team at Garage Door Repair Trumbull a call and let our technicians safely replace it for you. Opener repair and replacement are two services that we specialize in, so don't hesitate to reach out to us for help or advice.